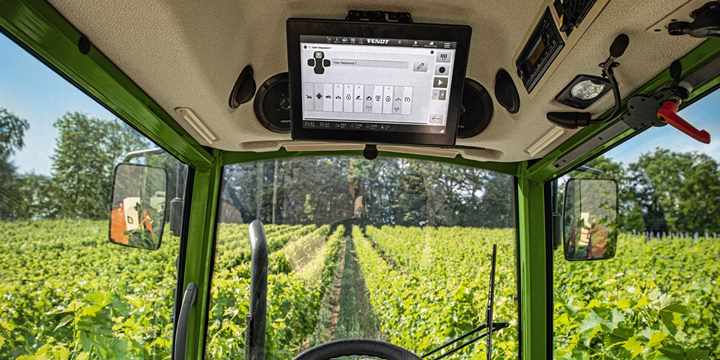 scroll me
Thanks to ISOBUS, you can control all device activities while sitting comfortably in your cabin. All data is available on a single display and the exchange of information provides you with basic support for all types of work:
You can control your certified ISBOBUS machinery, including your sprayer, to increase efficiency in all working conditions thanks to real-time data.
By integrating precision satellite systems, you can display the treated surface directly on the monitor that is part of the GPS-guided steering system.
With automated and precise steering, you can protect fuel, pesticides and the environment.

With ISOBUS, you can increase the efficiency of the whole plant protection process. All this leads to cost savings, such as the saving of pesticides. In combination with a steering system, this helps to avoid overlaps or empty areas. The driver's fatigue is significantly reduced and the management of the communicating attachments allows you to automate your work.
EFFICIENT & COST SAVING
the modern ISOBUS systems
How does the ISOBUS system work?
As far as the control of the sprayer is concerned the ISBOBUS system meets every need. Basically, our ISOBUS system works exactly like the other on-board computers: based on the selected user program and the automatically detected driving speed, the correct output quantity is regulated by automatically adjusting the pressure regulation.
Therefore, the desired application quantity can always be complied with it. Furthermore, the sprayer has exactly the same sensor technology as our usual on-board computers.